The Planning Process
Financial Planning is the process of meeting your life goals through the proper management of your finances. This step-by-step process helps you to recognize and achieve personal goals by gaining perspective on where you are now and defining where you may want or need to be in the future. It provides direction and meaning to all your financial decisions. At Weinberg Financial Advisory, we take the time to get to know you so that we can make sure that your individual needs are met. This results in a personalized plan that can grow with you to help you realize your goals.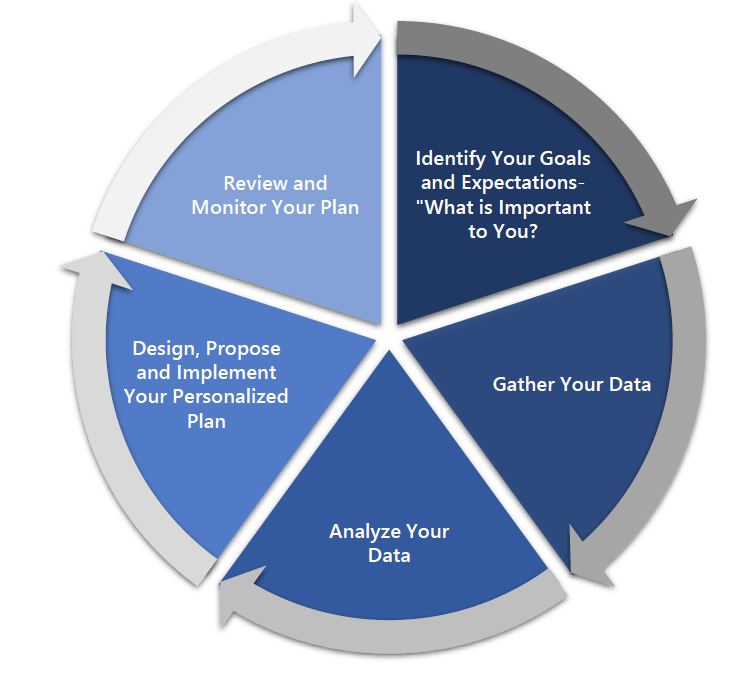 Identify your goals and expectations
Identify your Matters of Importance- "What is Important to you?"
Establish time horizons for achievement
Set realistic expectations
Gather your data
Collect all of the necessary information to outline your financial resources and obligations
Obtain documents pertaining to your financial history to review
Analyze your data and create a plan
Assess your financial past as well as your current situation
Identify any opporutnities and areas of concern
Determine what options are available to help you meet your goals
Design, propose and implement your personalized plan
Provide objective recommednations based on your "Matters of Importance"

Coordinate contact with other professionals such as accounts and lawyers.

Concisely communicate and discuss the recomemnded financial plan

Put your plan into action
Review and monitor your plan
Track progress

Adjust and rebalance accounts according to original asset allocation

Meet with your advisor annually to review your plan and make any necessary adjustment

s
Why Choose a CERTIFIED FINANCIAL PLANNER™?
CFP

®

CERTIFICATION: THE STANDARD OF EXCELLENCE
Financial matters can often seem and be complicated. If you are in doubt as to your ability to make the most of what you have, or will have, for your future and for those you love, it may be time to consult a professional.
Today more than ever, CERTIFIED FINANCIAL PLANNER™ professionals are an essential resource. From budgeting, to planning for retirement, to saving for education, to managing your taxes and your insurance coverage, "finances" doesn't mean just one thing for most Americans — and "financial planning" means much more than just investing. Bringing all the pieces of your financial life together is a challenging task.
Although many professionals may call themselves "financial planners," CFP®professionals have completed extensive training and experience requirements and are held to rigorous ethical standards. They understand the complexities of the changing financial climate and know how to make recommendations in your best interest.
Call us at 443.798.7878 for a complimentary consultation.